If you have been following Canopy Life since the beginning, chances are you already know Pip Jackson. Pip toured with the Daraja Children's Choir in the fall of 2010 and summer of 2013, and helped organize and facilitate the 2012 – 2015 Daraja Alumni Retreats. These retreats had a pivotal role in Pip's calling to partner with Canopy Life.
We are excited to tell you that this September, Pip will be joining us in Kenya, as our Deep Roots Coordinator. She plans to invest at least the next two years developing the Academy's Deep Roots curriculum and training our Kenyan teachers and staff to continue the program after she leaves.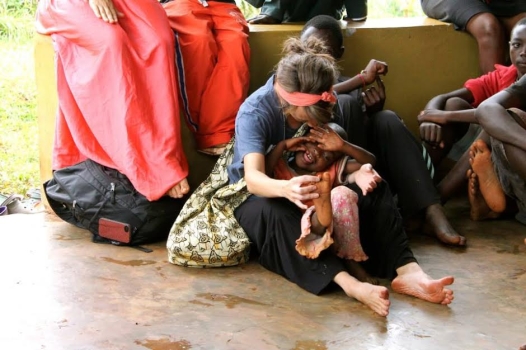 We believe Pip's experiences touring with the Daraja Children's Choir, helping with leadership training in Kenya, and teaching music in a school setting have uniquely prepared her for this role. Don't take our word for it though – here's Pip's story in her own words:
My world changed drastically the moment I saw 23 beautiful African children skip down an aisle to a stage to lead thousands in worship.  Those children were the Daraja Children's Choir of Africa.  I went home mesmerized at their joy and beauty in spite of their circumstances.
When I returned home, I ordered a cd of the choir.  As I listened to their sweet voices, I undoubtedly heard the Lord say, "I have this for you," but I never imagined that God would use these kids to make such a remarkable impact on my life.
I had the privilege of touring with the choir in the fall of 2010. After returning home from my first tour with the choir, I begged God to let me go back… to do the thing I knew He had created me to do.  As always, I had to wait.  I returned home and took the Jr. High Choral Director Position at Valley View Jr. High School.
God is faithful.  Since 2010, I have returned to Kenya to help with Leadership Retreats for the choir alumni.  I even had the sweet gift of touring with the choir a second time in 2013.
God has put in my heart a great love for the children in Kenya. In September, I will be moving to Kenya to work for Canopy Life Academy as the Deep Roots Coordinator.  I will be building a discipleship arts program to teach kids in Kenya spiritual truths through music, art, dance, and drama.
Pip's energy and love for others leaves a mark on everyone she meets. Her local newspaper even ran an article about her upcoming work with the Academy. You can check it out at the bottom of this post!
Some fun things you should know about Pip:
She is involved with The Foundation of Arts, the community theatre in her hometown of Jonesboro, Arkansas. She is also part of a local Emmaus community. These 2 organizations have given Pip the gift of community, as well as provided opportunities to share about Canopy Life.
Her cat's name is Zawadi, which means gift in Swahili. She's named after the little sister of Moses Karanja, a child who traveled with the Daraja Choir in 2009 – 2010.
How you can partner with Pip:
Pip has asked that we will pray for wisdom and discernment for her and the rest of the Canopy Life Academy staff as they embark on this new adventure, and for her fundraising efforts. Most importantly, she requests that we pray for the kids to thrive – that they will learn to dream with their Creator to become who He has created them to be!
In order for the Deep Roots program to happen, Pip and the Academy are reliant on the financial support of individual donors like you. If you would like to give toward Pip's investment into the Academy, you can visit Canopy Life's donation page (be sure to enter Pip's name in the Comments box) or set up a recurring donation through the 410 Bridge.
Pip is beautiful inside and out, and we're thrilled to have her be part of the Canopy Life Team! You can get to know her better by visiting her info page on issuu.com.
Welcome back to Kenya, Pip!