In Episode 19 of the Canopy Life podcast, Evan interviewed our founder, Christi Gordy, about how Canopy Life came to be the organization it is today. In this episode, Christi describes how God gave her the vision for Canopy Life and gave her strength to persevere through the journey.
Here's what she had to say.
"I fell in love with Kenya."
I was introduced to international work through a ministry perspective, so that style of work felt very natural to me. A few years after college (2003), God opened the door to Kenya. Honestly, Africa did not exist on my radar. That first trip ended up being a six-month mission to Kenya, living in Kibera, the largest slum in East Africa.
This trip was very impactful for me. I fell in love with Kenya and the potential I saw in the people. It's truly one of the most hospitable countries that I've ever been to, and I think my heart just split wide open. And with English as the trade language, I could communicate easily which was important. I'm big on communication, its how I connect with people. So, I felt like I could be myself there.
"Please don't give this job to anyone else."
I came back to Atlanta and got a job with a nonprofit that was working with women in crisis. It was just starting up, and little did I know that was going to be my mini-institute on how to get a non-profit off the ground. I learned a lot from that season. 
In August 2006, I attended a Bible study for singles in Atlanta called 722. Louie Giglio spoke on James 1:27, how "true religion is to help widows and orphans." That night I couldn't sleep. I sat up thinking about Kenya all night long. I drew this picture in my journal of a school –that felt like a home– that had American interns and there was a way for widows to get involved.  It was very very clear, but I thought it was just an idea. Something sparkly that God was sending to get my attention. I put it in my journal, but I knew that it was a clue that I was supposed to head back to Africa. So I began looking.
4 months later, God opened a door to Kenya. Again, it was an organization that had just started, called The 410 Bridge. They wanted to launch a children's choir of Kenyan kids that would travel the U.S., and they needed someone to be the tour leader. 
So, that's how I got the job with The 410 Bridge and leading the Daraja Children's Choir of Africa, and it set me on that path…
About 4 weeks in, I realized I love this. I love working with these kids. I love seeing their worldview change… I love seeing the churches' worldviews changed. Having the choir at a church is like taking the whole church on a mission trip. I love the cross-pollination of God's graces when the two cultures would come together. We see God through each other's eyes. It was so powerful. I found myself at the end of our first fundraising event begging for the job like, "Please don't give this to anyone else. Let me do this job."

Christi Gordy, Episode 19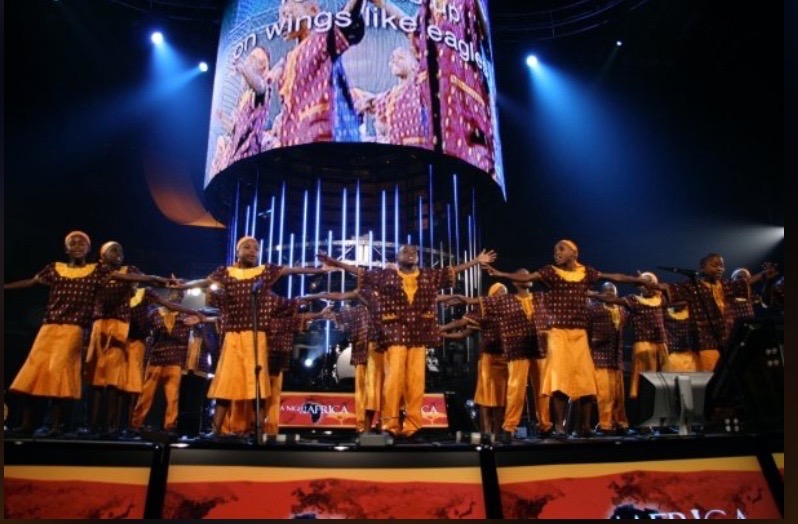 "Something has to change."
When I started with the choir, I still wasn't thinking anything about that picture in my journal of a school in Africa. But, about a year-and-a-half into touring with the choir, it became clear that the vision was more than just a flashing light…
While you're on the road, you watch these kids' lives change dramatically. One day, we were in Panama City waiting for one of our choir performances when two of our boys in the choir got into a fistfight over a piece of pizza. Something about this afternoon had triggered their street-kid survival instincts. There was no element of scarcity whatsoever. This was their 7th piece of pizza. But something triggered that inner trauma and they got into a fist fight. 
That summer, I had this amazing intern who felt like we were making progress with the kids. Seeing these boys start fighting over a slice of pizza after such progress really discouraged him. We got in my Rav4 and drove over to the Sonic Drive-In for a cherry limeade slushie. We were sitting in my car just trying to process what had just happened, and he looked at me and he said, "Something has to change."
I don't know how many people get a moment like this. What was delivered to me at that moment was so much more than those words. It wasn't the intern talking. It was just the Lord saying that something… no, someone has to change this.  I wasn't even sure what the change was, but I knew that someone was me.

Christi Gordy, Episode 19
I could have fallen out of my vehicle onto the parking lot of the Sonic drive-thru, it hit me so hard. That was the moment I knew that that thing I had drawn in my journal 2 years before was real.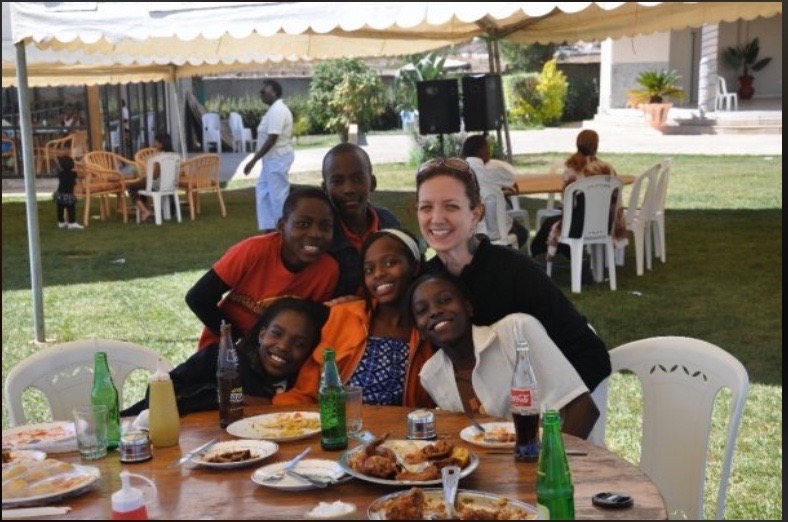 "There's always a little realization that when you say yes to something, you're saying no to other things."
In 2011, Kenya denied travel documents to the choir kids. We couldn't figure out how to make future travel happen for them, so we hit pause for a little bit. I moved to Kenya for the rest of 2012 so that Abbu (Odhiambo), Grace (Gachengechi), and I could do the research and development for the school. When I came back to the U.S. at the end of that year, we proposed to the Daraja Children's Choir board that we wanted to start a school. They loved the idea.
Eventually, though, we (410 Bridge's executive director and I) realized that this idea needed to be it's own thing. It needed to be separate from The 410 Bridge and the choir. I always look back on this time with such gratitude, because it could've gone down so badly.
There's always a little realization that when you say yes to something, you're saying no to other things. It was in that year that I was coming to the conclusion that it was me who was supposed to lead this vision.
I was excited but mostly terrified. I didn't want to offend the people that had been helping me nurture this dream for years or abandon them from the work that I was helping them do, and it was just one of those God moments where I walked into Kurt's office, and we almost in unison said, "This just needs to be its own thing." I think we were both equally excited and terrified.
The most beautiful part about that relationship with The 410 Bridge was that they helped launch Canopy Life. From website development to program management to financial structures, they helped set up the systems that would enable me to run Canopy Life as a single employee. And, for the first four years, it was just me. There's no way I could have accomplished all that they did, especially not with my strengths and weaknesses. I would just never have been able to launch out the door that excellently without their support.
How did you choose the name "Canopy Life?"
After our research and development season in Kenya, we knew that we didn't want to use the word leadership in the title, and that's because the word leadership has a very different connotation in Kenya. There, it implies power and status that you often use for yourself, not the kind of servant leadership that we would have intended.
"Daraja," which means bridge in Swahili, had such a rich and deep meaning for me. To find a name that represented that same kind of depth was really challenging. I'll never forget I just spending hours on Zoom with people dreaming and brainstorming the name. My sister had this saying called "splendor tree." It was this idea from Isaiah 61. That scripture had meant a lot to me during my trip to Kenya in 2003, and so I loved this idea of a planting of the Lord like the strong oak tree for the display of his splendor. The image that came to us was this idea of what a tree means in Kenya…
To me, if our school could become a "canopy" for students- a safe, nurturing place to thrive, and then they themselves grow up into a canopy for their communities–a place where people can take refuge in their leadership. The "Life" part of our name came from this realization that this is a lifestyle. We want our kids to become a refuge where other people can take shelter in their leadership when they grow up. It's not just a position of leadership. It's just the rhythm of life. 
Canopy Life Academy, est. 2015
We spent a year fundraising and then launched the school in 2015. It was in a small rental facility. Then in 2017, we had some really difficult times. In that neighborhood, there was corruption going on. A guy who secretly wanted to start his own school made some false accusations. For the safety of our kids, we moved them to another school until we could find a safer environment that led us to launch our own campus in Koma Hill, about 45 minutes east of Nairobi.
Our campus opened in 2019. It's been a wild and amazing ride. I could never be more grateful. I never knew that this journey was going to be one of perseverance. The dream itself had to percolate for almost nine years before we opened our doors.
God used the waiting and persevering and listening. I have had so many donors stick with us, and for many of them, they have walked with us since the vision began 9 years ago. They were listening to me as l led the choir. While they fell in love with Kenyan kids, they were dreaming about this with me, and they're just as richly invested as I am. I'm definitely not as young as I was when the story started, but I have experienced so much of the richness of God's faithfulness through the perseverance of the story.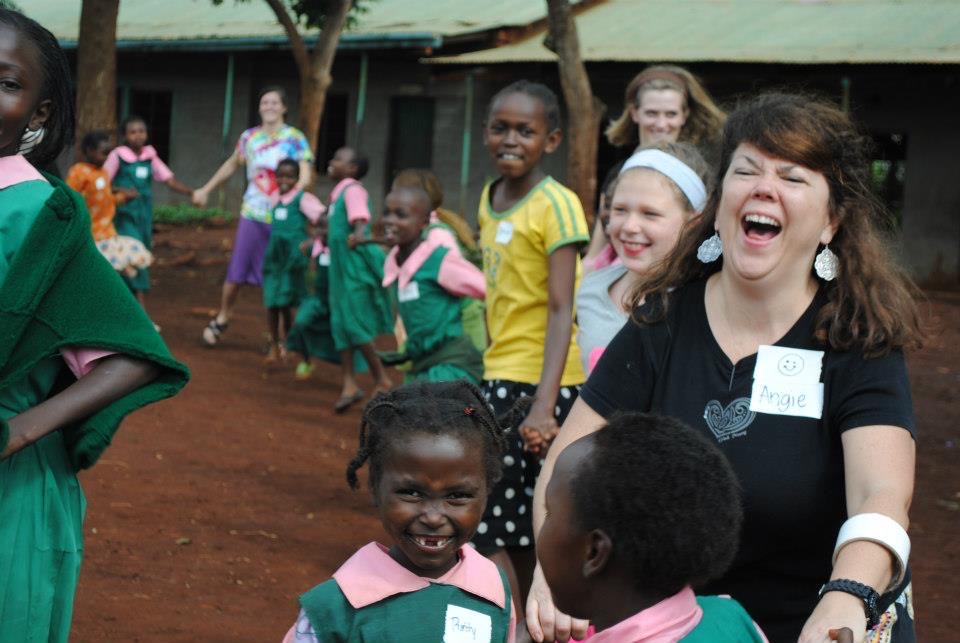 What would you say to those who are pursuing a dream or vision?
For anyone who is dreaming, know that there is most definitely going to be huge amounts of perseverance and a lot of counting the cost. But the most important thing is to consider whether your pursuit of a vision is creating a more loving you and a more loving community. If both of these things are happening, then whatever you do, please don't quit.
You are going to want to quit many times. There were so many moments when I wasn't sure we're going to make it, and I really wanted to quit. But I knew that God was in it because I saw those things. And that it would be worth it if we could persevere.
For anyone who is pursuing a dream: As long as you can still press in and you're becoming a more loving you and you're creating a more loving community, keep leaning in.