This Christmas, celebrate the birth of our Savior with this beautiful, handcrafted Nativity set from Kenya. The 12 piece set makes a wonderful gift or an elegant addition to your holiday decor. Each Nativity set purchased provides one month's sponsorship for a child at Canopy Life Academy.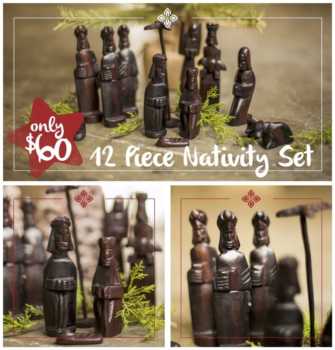 As you prepare for the Christmas season, you may also be thinking ahead to year-end giving. During this season of generosity, we'd love for you to join in helping to provide educational and home items for our students in the upcoming school year. From Lego sets to to Bibles to school supplies, there's something on this list that will resonate with all gift givers.
As we enter this season of generosity, thank you for considering Canopy Life Academy in your giving.
To provide an undesignated year-end gift, donate online at canopylife.org/donate or mail a check to Canopy Life Academy, PO BOX 500942 Atlanta, GA 31150. Canopy Life Academy is a 501(C)(3) organization as recognized by the Internal Revenue Service. All contributions are tax deductible.