This week's 2-part podcast is different than any podcast that we have done before. Rather than sharing stories, impact data or cultural perspective form Kenya, this podcast is a conversation where Evan (our stellar Canopy Life podcast host) and Christi Gordy (Canopy Life founder) process and explore together the mental and emotional challenges that we are all facing due to COVID-19.
A letter from the founder, Christi Gordy
Hi, everyone. I am excited (and honestly, also quite nervous) to share with you this new podcast. I'm sure we all can agree that this pandemic is going to define us as a people and as individuals. In this two-part podcast, we explore ideas about how we can find resilience through this global challenge by embracing a BOTH/AND mentality: finding the space in our hearts and lives to hold BOTH the grief, suffering, reality, lament AND the hope, peace, possibilities, and vision.
Maybe you can tell that I'm overemphasizing the words process, explore, conversation, etc. This is because none of our ideas are original. Neither Evan nor I consider ourselves experts in any way.
Instead, our discussion is fueled by a curated list of articles, devotional thoughts and personal experiences that are currently informing our perspective on who we want to be in the midst of this challenge and who we want to be on the other side.
We wanted to share this processing session with you in hopes that it will offer you perspective, hope, resilience, and maybe a little comfort in the midst of what YOU are going through.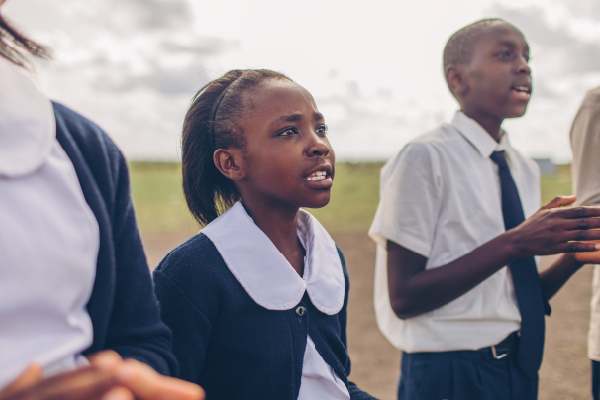 We believe we can hold BOTH grief AND hope in the same hand because of who Jesus is.
It is no small coincidence to me that these discussions are being released on Easter weekend, as we enter into the dark lament of Good Friday and end with the hope and vision of the resurrection and Easter Sunday.
To quote one of the articles we discuss:
"Grief and loss go together in Christian faith with vision and hope in a singular way, because they are the story of Cross and Resurrection. There is no greater grief than Calvary, the crucifixion of the very Son of God by the ones he came to save. There is no greater hope than Easter".

Crouch, Keilhacker, and Blanchard, "Leading Beyond the Blizzard"
Our discussion, while meandering and imperfect, is grounded in this truth that with the power of God, we have enough space in ourselves to hold both grief and hope, lament and peace, reality and vision. And this will form our ability to be resilient and come out of this challenge transformed.
A word of caution…
I also want to warn you that depending on your own state of mind, these podcasts may not be timely and you should proceed with caution. I say this out of love for you as I recognize the nonlinear grief process that we are all in right now.
Part 1 (Episode 8) focuses a lot on the thought that there is still much more coming for us and the grim possibility that our world may never be the same. We discuss grief and the frustrations and challenges that many people are facing. If you are in the grief state of denial, part 1 could be very heavy, perhaps suffocating.
Part 2 (Episode 9) is about the innovation opportunities that arise for leaders and businesses out of severe disruption, the hope and vision that can be found in Christ, and the proactive words and choices that will equip us with a growth mindset through these challenges.
If you are grieving, suffering, and needing empathy or comfort, the proactive suggestions in Part 2 might seem insincere – like too much positivity, too soon. Please listen to them with wisdom and an awareness of your own mental state.
I've probably broken a dozen rules of communication with all of these caveats and explanations. But with all this said, I am excited to share with you our discussions: Finding Resilience by embracing Both -And.
-Christy Gordy, founder
Going Deeper
Below you can find a link to all of these articles which we encourage you to read as you have time. Whether secular or sacred, we think these writings have value as they unite to form a BOTH-AND mentality.
Leading Beyond the Blizzard: Why Every Organization is Now a Startuphttps://journal.praxislabs.org/leading-beyond-the-blizzard-why-every-organization-is-now-a-startup-b7f32fb278ff
Todd Herman Study: https://www.facebook.com/toddherman1/posts/10163034241955004
That Discomfort You're Feeling is Grief? https://hbr.org/2020/03/that-discomfort-youre-feeling-is-grief?fbclid=IwAR0SJ16NxXwNv12SCo0pqM2CMyGCG1v4xsYyoQTv2puNszCGw7SoNiNSlxE
The Moral Meaning of the Plague https://www.nytimes.com/2020/03/26/opinion/coronavirus-meaning.html
Jesus Calling: October 17th Entryhttps://www.jesuscalling.com/app/
Psalm 23 Amplified Version: https://www.biblegateway.com/passage/?search=Psalm+23&version=AMP
John Shelton: instillerygroup.com/instagramlive or email John at jonathan@instillerygroup.com